Epcot® International Food & Wine Festival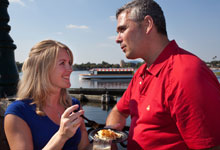 Food and wine lover's paradise awaits you at Epcot® with the Epcot International Food & Wine Festival Fall 2016!
Event Dates: September 14 - November 14, 2016
Event Tickets: Admission to Epcot required.
There's something to satisfy most every taste and interest. In addition to the attractions Guests already enjoy at Epcot, this annual autumn event features a delectable array of offerings, including:
International marketplaces featuring tasty tapas and refreshing beverages
Cooking demonstrations and dining events - including experiences with celebrity chefs!
Mixology classes and wine tastings
Live musical performances by popular hit-makers
Dine your way around the world. Cultivate your cooking skills. Savor a rare vintage. Enjoy an exhilarating outdoor concert. Make magical memories to last a lifetime at Epcot International Food & Wine Festival.
Eat to the Beat Lineup for 21st Epcot International Food & Wine Festival
You can savor nightly performances of the Eat to the Beat Concert Series when the Epcot® International Food & Wine Festival returns to Walt Disney World® Resort Sept 14-Nov. 14, 2016.
Eight new acts join the lineup, including Wang Chung, BoDeans, Plain White T's, Jeffrey Osborne, Toad the Wet Sprocket, Living Colour, Soul Asylum and Delta Rae.
Here's a look at the full schedule:
(Subject to change. Songs listed are for artist recognition only and may not be included in the concert play list)
Sept. 14-15 – Wang Chung NEW! "Everybody Have Fun Tonight"
Sept. 16-18 – STARSHIP featuring Mickey Thomas "We Built This City"
Sept. 19-20 – Air Supply "All Out of Love"
Sept. 21-23 – BoDeans NEW! "Closer to Free"
Sept. 24-25 – Fuel "Hemorrhage (In My Hands)"
Sept. 26-28 – Sugar Ray "Fly"
Sept. 29-30 – Los Lobos "La Bamba"
Oct. 1-2 – David Cook "Light On"
Oct. 3-4 – Wilson Phillips "Hold On"
Oct. 5-6 – Blues Traveler "Run-Around"
Oct. 7-9 – Plain White T's NEW! "Hey There Delilah"
Oct. 10-11 – 38 Special "Hold On Loosely"
Oct. 12-13 – Jeffrey Osborne NEW! "On the Wings of Love"
Oct. 14-16 – Tiffany "I Think We're Alone Now"
Oct. 17-19 – Dennis DeYoung: The Music of Styx "Lady"
Oct. 20-21 – Christopher Cross "Sailing"
Oct. 22-23 – Toad The Wet Sprocket NEW! "Walk on the Ocean"
Oct. 24-25 – Chaka Khan "I Feel for You"
Oct. 26-27 – Billy Ocean "Caribbean Queen"
Oct. 28-29 – Living Colour NEW! "Cult of Personality"
Oct. 30-Nov. 1 – Hanson "Get the Girl Back"
Nov. 2-3 – Soul Asylum NEW! "Runaway Train"
Nov. 4-6 – Delta Rae NEW! "Bottom of the River"
Nov. 7-9 – Boyz II Men "Motownphilly"
Nov. 10-11 – Sister Hazel "All For You"
Nov. 12-14 – Big Bad Voodoo Daddy "Go Daddy-O"
Performances are 5:30, 6:45 and 8:00 p.m. daily at America Gardens Theatre, and are included in Epcot admission.
Check back often for more updates
Want to stay at Walt Disney World Hotel during this great festival? Contact RMH Travel today for your free no obligation quote...and let us help you make the most of your Magical vacation.