Epcot® International Food & Wine Festival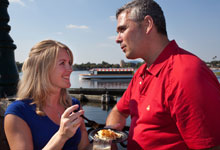 Food and wine lover's paradise awaits you at Epcot® with the Epcot International Food & Wine Festival Fall 2016!
Event Dates: August 31, 2017 - November 13, 2017
Event Tickets: Admission to Epcot required.
There's something to satisfy most every taste and interest. In addition to the attractions Guests already enjoy at Epcot, this annual autumn event features a delectable array of offerings, including:
International marketplaces featuring tasty tapas and refreshing beverages
Cooking demonstrations and dining events - including experiences with celebrity chefs!
Mixology classes and wine tastings
Live musical performances by popular hit-makers
Dine your way around the world. Cultivate your cooking skills. Savor a rare vintage. Enjoy an exhilarating outdoor concert. Make magical memories to last a lifetime at Epcot International Food & Wine Festival.
Want to stay at Walt Disney World Hotel during this great festival? Contact RMH Travel today for your free no obligation quote...and let us help you make the most of your Magical vacation.